Greeting from the president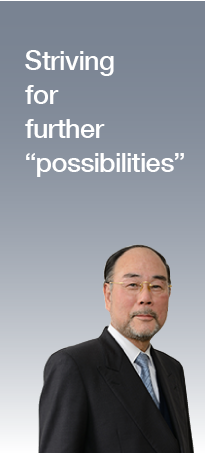 Our company's philosophy is "We treasure our employees and we should always remember our roots." We have had this business for over 50 years.
Our central operation is directly handling customers' property as the contractor on site and completing our tasks smoothly. We have educated our employees and administrators to accurately recognize careful work, safety, quality and legal compliance.
We sincerely appreciate that our various specialized knowledge and skills were acquired through our customers giving us the opportunities to serve and strenuously leading us over the years. In addition, we assure that tasks are accomplished by our competent and capable employees who have spared no effort to develop their massive abilities with our best collaborators.
Even more, we will continue to enhance our skills, retain excellent human resources, and dedicate all our strength to our customers' businesses in order to continue maintaining their smooth production.
We will strive to a company our customers can rely on while also offering young people employment opportunities as our social duty, even though the management circumstances tend to be beyond our control.
We hope we at Shohosha Co. continue to be trusted so that we may have all the opportunity to serve you in the future.
President Shinsuke Sato