Facilities maintenance operations
Smooth manufacture activities through consistent equipment maintenance
Daily maintenance and repair is essential for factory equipment. With the factory possessed by our company and our proficient technicians we realize short manufacturing period and give support at reasonable cost at any scale of facilities maintenance work.
Our technicians, who have accumulated a great deal of experience and results, start with CAD drafting before providing a full, consistent service including parts manufacture, planning of improvements, relocation of machine equipment, processing, assembly, and disassembly. We contribute to the maintenance of smooth manufacture activities and long life of machines for our customers as well as reduced maintenance costs.
Points of Shohosha's "facilities maintenance operations"
We support everything from small scale work to repair, assembly, relocation, installation, etc. of equipment.
We can handle manufactured products or manufacturing from small to large lots.
We possess factories in Fukushima and Iwate, enabling us to provide products to our customers at reasonable prices. We also provide proposals for cost reductions.
Facilities maintenance operations
・Creation of (2D) diagram via CAD
・Skilled at casting equipment and environment equipment (dust collectors)
・Manufacture and assembly of pulleys, oscillation conveyers, bottom plate liners, hoppers, backs, suspending tools, etc.
・Processing of hydraulic cylinders, various machine consumable parts, etc.
・Can handle single products to mass production
・Can handle axis processing for long items
・Provision of higher quality service through measurement tools
・Capable of grinding and polishing of round and flat objects, various plating, various tempering
・Adopting 3D measurement equipment, thorough precision management
・Air, hydraulic, electric motors, decelerators, motor disassembly servicing
・Melting and reuse of consumable parts
・Capable of everything from removal from machines to installation
・Implementation of everything from layout of machine equipment to relocation construction
・Disassembly and removal of machines which you no longer need
・Bringing in and installing new equipment into the factory
・Maintenance and inspection of other machine equipment, etc.
・Daily, monthly, and annual inspection of dust collectors
・Inspection and maintenance of equipment around dust collectors
・Repair of defected places after inspection results
・Replacement of filters
・Advice regarding environmental measures
・Support for customers' measures toward ISO and Eco Action 21, etc.
For these kinds of clients
Want to reduce maintenance costs
Want to have the same contractor handle everything from design and execution to maintenance
Want a contractor to inspect dust collectors and change their filters
Want to outsource the processing of long parts
Want to entrust maintenance with proficient maintenance workers
Want to leave everything from CAD drafting to parts manufacture to a contractor
Flow up to start of work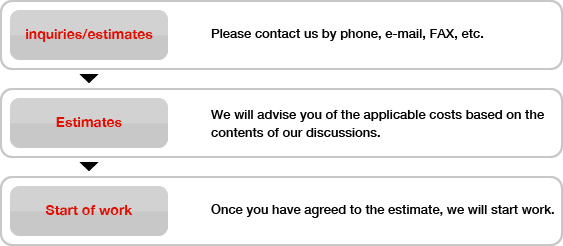 Listed of owned machine tools
Wakamiya plant
product name
maker
model
NC lathe
DMG Mori Seiki Co.
SL-25
General lathe
Dainichi Kinzoku
DLG-SHB
DMG Mori Seiki Co.
MS-850G
DMG Mori Seiki Co.
MS-1250
TAKISAWA MACHINE TOOL CO., LTD.
TAL-460
Band saw
Daito Seiki Co., Ltd.
GA-250
Arc welder
National
YK-255 KLD-3
Daihen Co., Ltd.
BS300L
Semi-automatic welder
Panasonic Corporation
YD-350KR2
Panasonic Corporation
YD-350KR1
Panasonic Corporation
YD-350RX1
Daihen Co., Ltd.
NEW350
TIG welder
Daihen Co., Ltd.
TIG MINI200PⅡ
Plasma
Panasonic Corporation
YP-080PF1
Panasonic Corporation
YP-060PA2
Welder
Denyo Co., Ltd.
DAW-180SS
Drilling machine
Hitachi Koki Co., Ltd.
DD-4300
Kiwa Kohan Co., Ltd.
KUD-550FP
Radial drilling machine
Ooya Seisakusho
Compressor
ANEST IWATA Co., Ltd.
SLP-150CD
High speed cutter
Hitachi Koki Co., Ltd.
CC16SB
Bender
IKK Co., Ltd.
DBD-25L
Hydraulic press machine
In-house manufactured products
Milling machine
OKK Corporation
MH-3VⅡ
Broaching machine
Takara Kikai Kogyo Co., Ltd.
TK-60
Coordinate Measuring Machine
Mitsutoyo
Kitakami factory
product name
maker
model
Shirring
Ishihara Ironworks
Press
Amada Co., Ltd.
SPH-60
Metal saw
Hitachi Koki Co., Ltd.
CU15SB
Automatic sawing machine
Tsune Seiki Co., Ltd.
C-202AP
Semi-automatic welder
Panasonic Corporation
YD-350KRI
Daihen Co., Ltd.
CPV-350
Daihen Co., Ltd.
CPXS-350
Arc welder
Daihen Co., Ltd.
KXA-3005
Daihen Co., Ltd.
AR-SB202
Automatic gas cutter
Koike Sanso Kogyo Co., Ltd.
IK-12
Koike handy auto
Koike Sanso Kogyo Co., Ltd.
IK54-D
Rotation positioner
Koike Sanso Kogyo Co., Ltd.
LD-50E
Belt grinder
Hitachi Koki Co., Ltd.
BG-100
Electro-hydraulic puncher
Ishihara Seiki Co., Ltd.
EP2110V
Plasma cutter
Daihen Co., Ltd.
AR-SC30U
Milling machine
Roku Roku Sangyo Co., Ltd.
NV132SO
Lathe
Ikegai Corp
A25
DMG Mori Seiki Co.
MR-2000G
Dual-blade grinder
Yodogawa Denki Seisakujo
SY150S
Mini beveller
Hitachi Koki Co., Ltd.
MB-07W
Vertical drilling machine
Yoshida Tekkoujo
YUD-540
Kira Corporation Co., Ltd.
KRT-420P
Sander
Bosch
GWS7-125
Hitachi Koki Co., Ltd.
G10SH2
Hitachi Koki Co., Ltd.
G10SO
Hitachi Koki Co., Ltd.
G18SH
Kosoku Denki Co., Ltd.
HSF-610
Electric drill
Hitachi Koki Co., Ltd.
NU-DH4
Electric atra
Hitachi Koki Co., Ltd.
MB-21A
Nitto Koki Co., Ltd.
A-35
Nitto Koki Co., Ltd.
M-65RA
Nitto Koki Co., Ltd.
FA-35
Jigsaw
Makita Co., Ltd.
PA6-GF30
Hydraulic jack
Osaka Jack Seisakujo Co., Ltd.
TWA-1.3
Osaka Jack Seisakujo Co., Ltd.
E50S16
Osaka Jack Seisakujo Co., Ltd.
EF50S1.5
Compressor
Toshiba Industrial Products and Systems Corporation
CSV-22LU
Bearing heater
Etoh Denki
201SR50