Final treatment for industrial waste operations
Ecological and clean final treatment
The issue of industrial waste treatment is a very large problem which directly relates to environmental issues both now and in the future. Worried about current conditions, we operate a controlled final treatment site for industrial waste in Nihonmatsu-shi, Fukushima.
To help our customers in the manufacture industry maintain continuous production, we conduct treatment with proper methods based on a thorough management system which is backed by our long years of success and experience.
We also give maximum consideration to the surrounding environment, implementing a variety of measures from a component analysis of buried waste to the processing of seepage water, preparations for power outages during disasters, etc. We have also acquired Eco Action 21 certification in order to announce these efforts to society and work toward continuous improvements.
We will continue to contribute to the world environment of the 21st century.
Treatment site specifications
Landfill capacity
234,400m³
Types of waste matter which can be accepted
Slag, dirt, metal scraps, debris (excluding specially controlled waste matter)
Seepage water processing facility
To treat the seepage water generated from buried waste matter, we utilize a variety of technologies at our water processing facility to create clean water to put back into the river.
Our water processing capacity is 140m³ per day. We give the utmost consideration to the Abukuma River and nearby nature.
Water shielding
In order to prevent leaking of seepage water, at the bottom of the landfill we have laid dual water shielding sheets, a protective mat, a middle mat, and a water shielding mat for five layers of water shielding. It can withstand a high amount of pressure and maintains high safety.
Dehydrator
This is a machine which pumps the coagulated sediment generated in the seepage water processing facility treatment process through a filter to extract the water from the mud and then reduces and dries it. The extracted water is then returned to the seepage water processing facility and reprocessed.
Also, the reduced, dried and solidified dirt is buried in the treatment site.
Permits and licenses
Date of approval and license; May 23, 1987
Permitter; Fukushima prefectural governor
Permission number; No.00730018753
For these kinds of clients
Want proposals regarding processing/treatment of industrial waste
Want to consider the natural environment
Want to leave treatment to a company that is strictly compliant
Flow up to start of work
Seepage water processing facility flowchart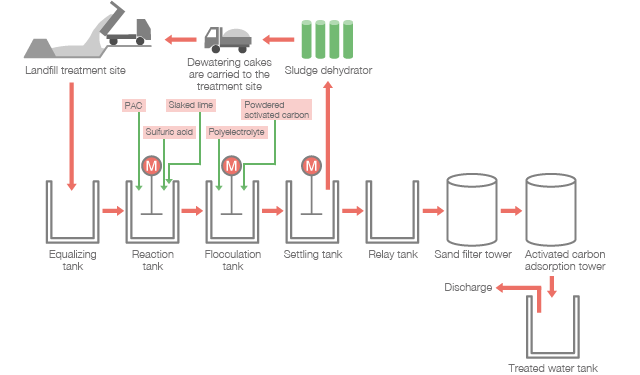 Treated water analysis results