On-site logistics operations
For effective manufacturing activities
On-site logistics work is the core of our company's operations. We handle vital work which is required by our customers in their production factories from reception of parts to management of stock and progress conditions, supply of parts to manufacturing lines, etc. In order to realize effective manufacturing activities for our customers, our highly-experienced logistics specialists utilize the achievements and know-how they have accumulated over long years as well as the forklifts, turret trucks, and other transport vehicles possessed by our company to always provide the required parts at the required times. At the same time we also conduct proactive proposals and improvements to create new production management systems, contributing to the improvement of product quality.
Points of Shohosha's "on-site logistics operations"
Reception storage
We receive the products delivered from parts manufacturers. We record onto check sheets upon delivery and manage thoroughly and reliably.
Parts storage
We store the delivered parts in the designated locations. We conduct thorough location management and comply with first in, first out.
Delivery of parts from warehouse
We provide just-in-time transport technology via veteran operators. We also conduct proposals for transport methods.
Production management
Delivery management

Normal deliveries

・Record onto delivery check sheet

Hand arrangement delivery

・Confirmation of delivery slip, contact customer

Utilization of database

・Understand the new parts to come each season in advance to confirm assembly and use type, place of use, period of use, parts delivery method, etc.

・Changes to lots, plans, time slots, etc.
Storage management

・We manage the dates of delivery slips for delivered parts, then separate and store them in their designated locations

・The storage locations include display of part numbers and classifications

・Supply process, inventory management

・Thorough with first in, first out and just-in-time
Management of parts delivery

General delivery


Ordinary mo truck operation (line side, etc.)


Rank payout


Establish rank indication sheets and confirm rank information before dolly rank set delivery


Set delivery of parts


Set separately by group and model in a list


・When taking parts out of the storage location, use those with the oldest date first

・Confirm the ID tag (part, date, supply location)

* When there is a request for additional parts, draft and send an additional request

* Stockout follow-up and investigation of causes (poor construction, missing from list, flawed design, delivery accident, assembly error, etc.)
Work management

(1) Exposure of work


Grasp the contents of individuals' work
Reception / opening / product check / storage / delivery / setting / Rank assembly / opening curing / rank list reception /
rank list check / parts retrieval / dolly linking / dolly exchange / empty box return / line patrolling /
storage palette exchange / packing changes / handling of stock-out or additional parts / shipping sorting


(2) Work analysis


Based on work analysis (1), draft an individual work instruction sheet.


・Equipment used: Transport vehicles such as forklift / crane / hoist

・Major parts delivery locations: Manufacturing line / kit location / prototype location / sub-Assy location


・Major setting locations: Location

・Exposure of major parts items: Number of parts items possessed (number of cases, number of pallets, number of suppliers), number of dollies in use (number of sets, number of transports)

・Transport route: Map / cargo transport chart

・Movement distance: Reception and delivery / reception between storage locations / warehouse and line / empty box return / refueling

(3) Workload evaluation of work execution


Calculate the production costs of the work analyzed in (2).


(4) Drafting of a work instruction sheet


Based on work analysis and workload evaluation, draft an individual work instruction sheet.


・Work contents / work points / work characteristics / used equipment / handled packaging / preparation work / joint work / usage frequency / lot numbers / difficulty/distance abnormal work / safety points / quality points / workplace / work course
End of period stocktaking

・Management via database

・Database registration of new parts

・Thorough management of parts via our own company's small scale inventory count
For these kinds of clients
Searching for highly experienced independent contractors for on-site logistics
Want to leave comprehensive logistics including to production management to someone else
Want to conduct accurate inventory management
Want to reduce workload and bring costs down
Want to reduce the amount of parts held by the production line and want the required parts supplied at the required time
Want management of progress and in-process adjustments conducted
Flow up to start of work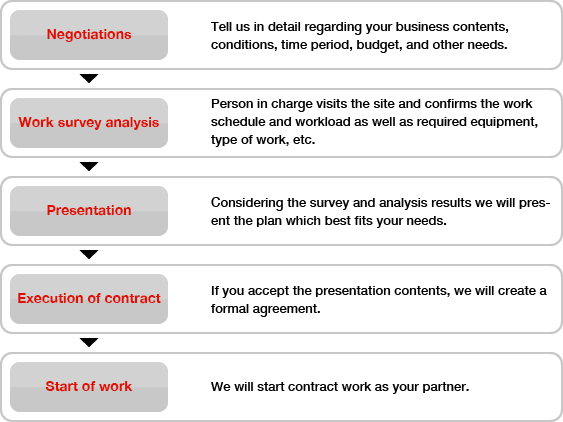 Example of work
Automobile manufacturer (Kawasaki-shi, Kanagawa)
We are contracted to operate transport vehicles, etc., to supply the required parts to production lines. Transporting a wide variety of products, we fulfill a very vital role in the company's production activities. Striving for more efficient production, we also assertively proceed with proposals and improvements.
Automobile manufacturer (Yokohama-shi, Kanagawa)
Our company's high technology is appreciated, and we handle the transport and supply of engine parts. We contribute to the customer's reduced costs and increased competitiveness.